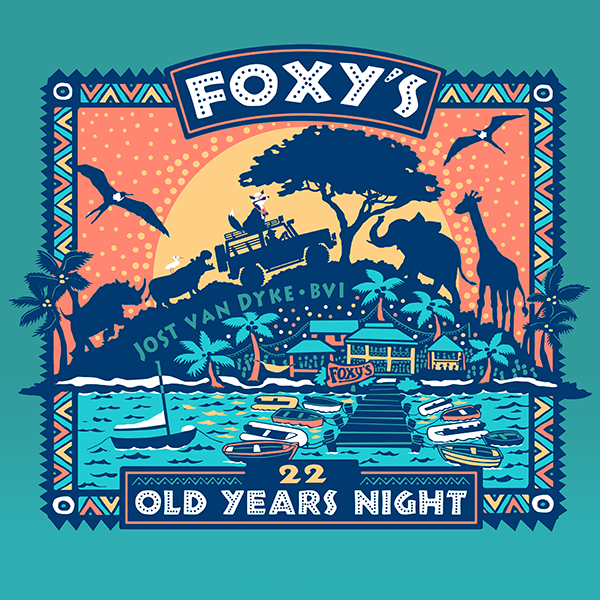 Foxy's Old Year's Night 2022
December 31, 2022
All ticket sales are final. If your travel plans change and you cannot make it to Foxy's, you are responsible for transferring your tickets to a third party.
There are three choices for being at Foxy's party:
1. Upper Crust $695/ticket — For those seeking a five-star experience: SOLD OUT
• Multi-course dinner.
• Open bar overlooking the stage from our Upper Crust VIP area.
• Reservations required.
2. Lower Level VIP BBQ $395/ticket: SOLD OUT
• Your own reserved table for the night.
• Open bar, and famous BBQ.
• Outback privileges with open bar.
• Reservations required.
3. EARLY BIRD – General Admission $40/ticket: SOLD OUT
General Admission $50/ticket
• Admission to the Outback.
• Cash bar and food to go.
• Discount for advance purchase online. SOLD OUT
Foxy's is the ONLY place to be for the biggest event of the year! Old Year's Night at Foxy's is renowned, world wide, for ringing in the New Year. Great Harbour is the destination and Foxy's is the place. Eat, drink, and be merry with non-stop entertainment.
At Foxy's there's always special entertainment for Old Year's Eve. Headliners and local area bands, are featured to provide non-stop music from dusk till dawn.
There are always special appearances by Foxy himself. Whether in Foxy's Outback concert venue or beach front, there's music and drinks flowing.
Ferry service from St Thomas, St John and Tortola. Sailors are advised to anchor early in Great Harbour and get squared away for a great event to welcome in the New Year. The first day of the new year is reserved for recovery.
DINING CHOICES
Great food and its presentation is where Foxy's shines. A Caribbean BBQ is offered on the beachfront level, complete with ribs, chicken and freshly caught fish complemented by garden vegetables. For those that get their reservations in early, will be treated to a feast on the private second level, the Upper Crust dining area, that gives the lucky ones a multi course seafood and selected meats dinner, top shelf spirits, party favors and a terrific view of the Outback venue. It's a dinner and entertainment evening that will go down in your digital diary.
Beach level
We'll have our famous Caribbean BBQ on both the 30th and the 31st.
Upper Crust
Dining with a fabulous served dinner and open bar is a sought-after reservation, be sure to call or email early – TheFoxBox@FoxysBar.com
After a year plus of being pent up, there's no telling what can happen once the high energy Calypso gets a hold of you. Welcoming in 2023 will be an Old Year's Night to remember forever! Be there!