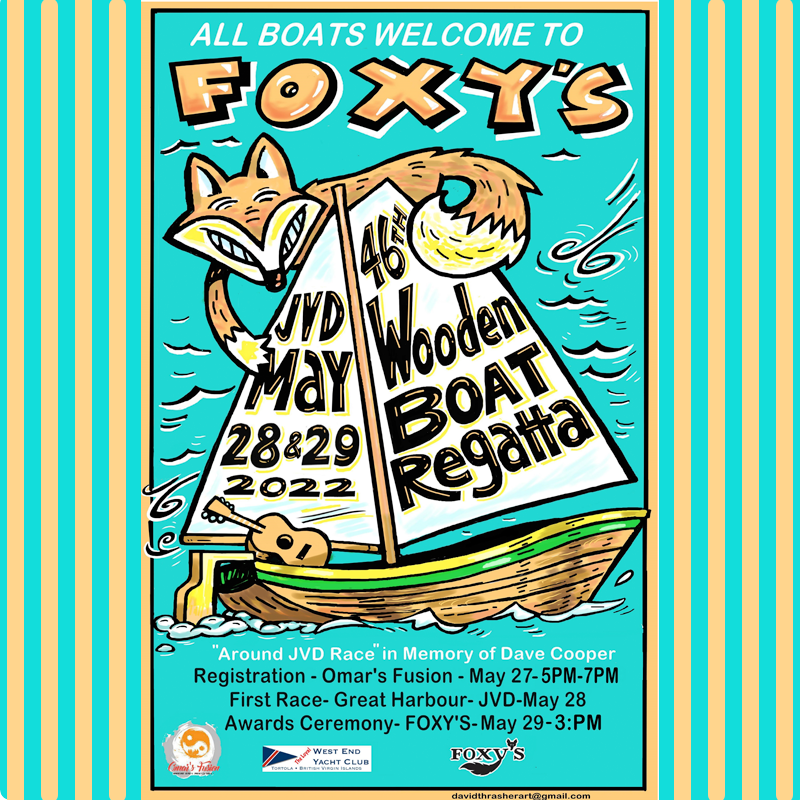 46th Wooden Boat Regatta
May 28 @ 1:00 pm – 5:00 pm
Join us at Foxy's on Jost Van Dyke for our annual wooden boat regatta event on Memorial Day weekend, starting Friday May 28th through Sunday May 30th. A fun filled agenda of live music, crab races and of course wonderful food and drinks awaits.
Come over to Jost Van Dyke for a day or for the whole weekend. It's easy to find accommodations — boat, room, inn, villa, or campground. Enjoy a few hours at White Bay, taxi over to Foxy's Taboo and, of course, party at Foxy's in Great Harbour each night. Races are Saturday and Sunday. You'll want to stay for the start of the big race Sunday morning. Authentic wooden boats as well as all forms of plastic fantastics will be racing to the finish line. The governing authority is the Loyal West End Yacht Club.
Live music will be featured on all three nights. Our famous Caribbean BBQ is featured on Friday and Saturday while it's fine dining at Foxy's on Sunday.
We've got you covered for transportation Sunday with a late ferry returning to Tortola at 9pm. Spend a day or the whole weekend on Jost Van Dyke. Come one, come all.
The party is on Jost Van Dyke, and Foxy's is the place to be for this year's Wooden Boat Regatta Weekend.
Registration
Soper's Hole Marina
Frenchman's Cay, West End Tortola
British Virgin Islands
First Race
May 28, 2022
Great Harbor, Jost Van Dyke
Awards Ceremony
May 29, 2022 3pm
Foxy's Bar
Great Harbour
Jost van Dyke, Virgin Islands (British)
1-284-442-3074