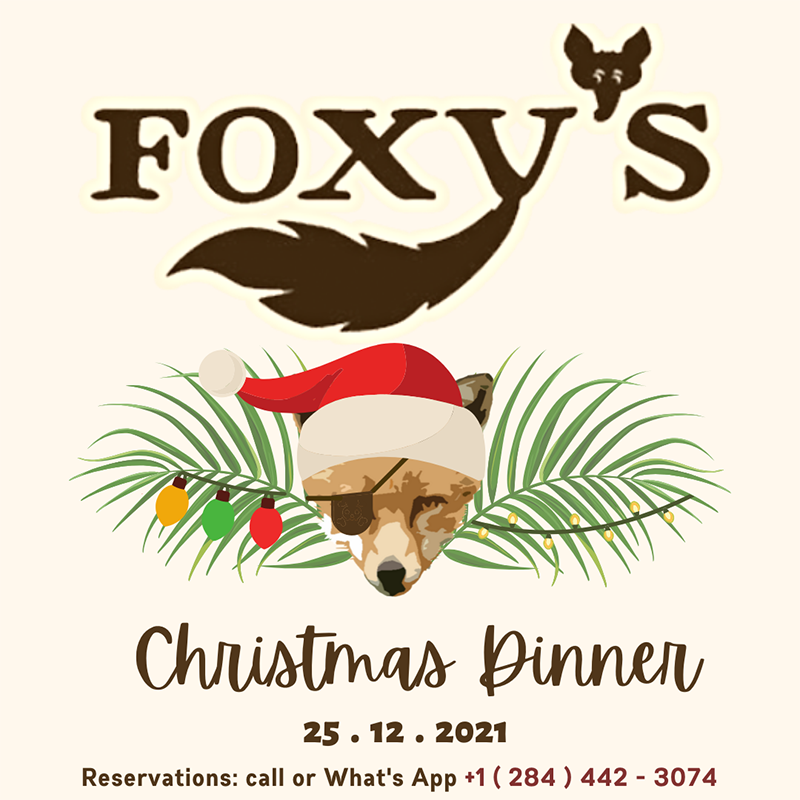 Foxy's Christmas 2021
December 24 – 25, 2021
Christmas Tree Traditions at Foxy's — Our decorated Christmas Coconut Palm tree can be traced back to Foxy's ancestors who during their winter festival decorated the palm trees along the beach with small strings of lights for visitors to make their way to the holiday celebrations at Great Harbour.
Chestnuts don't roast on an open fire on Jost Van Dyke, but Christmas cheer abounds at Foxy's. To celebrate this most wonderful time of the year, we prepare a Christmas Eve Dinner and a traditional Christmas Day Feast. As is our customs, there'll be entertainment, music, dancing and Holiday songs, both traditional and Caribbean.
There's no snow, just sand between your toes as you gaze up at the North Star, holding a holiday libation, and look for Santa speeding on his way to all of us good boys and girls on Jost Van Dyke.
Santa, who is triple vaxed, just text-messaged Foxy to let him know that he'll be coming a little earlier than expected. He mentioned that he was going to drop off the Band for Christmas Eve Dinner. You won't want to miss him. When all through the islands, not a sound is heard, because everyone is at Foxy's.
There will be plenty of creatures stirring and partying all through the Island, so hang the stockings later! What a great way to observe the night before Christmas and celebrate Christmas Day.
Call or email TheFoxBox@Foxysbar.com with your reservations now so we can let Santa know you'll be with us.